Key Observations:
• The Covid Delta variant has emerged as a headwind for economic growth.
• Growth stocks continue to lead the market forward.
• Corporate earnings have crushed estimates, and expectations remain high.

Economic Commentary
It's two steps forward and one step back for the economy. After firing on all cylinders through the first two quarters, consumer-oriented economic data has softened recently. Consumer sentiment has hit a near-decade low. According to the University of Michigan, its consumer sentiment index fell to 70.3 in August. This marks a sharp decline from the July reading of 81.2. (1)  Retails sales have cooled. According to the U.S. Census Bureau, advance estimates of U.S. retail and food services sales declined 1.1% from the prior month. (2)  A stunning surprise was the most recent jobs report, which revealed 235,000 jobs were added to the economy in August, far below the consensus estimate of 750,000 After driving employment gains for most of the year, leisure and hospitality payrolls were unchanged, and restaurants and bars lost 42,000 jobs. (3)
There is certainly more evidence. According to data from Adobe's Digital Economy Index, Americans have curtailed travel plans significantly over the past several weeks. (4)  In July, online bookings for domestic flights declined 16% to $5.3 billion compared to the previous month. Through the first three weeks in August, online bookings totaled only $2.9 billion. Hotels haven't fared much better, with occupancy rates declining every week in August in most major cities. Also, have you noticed the movie studios are once again pushing back major releases? These include a pair of Tom Cruise movies, Top Gun and Mission Impossible, and Clifford the Big Red Dog (featuring an even bigger star).
Of course, we know the culprit. The Delta variant of Covid has caused spikes in infections and hospitalizations across the country, altering consumer behavior and leading to local governments imposing new rounds of restrictions. The economy is likely to continue to show strength, but we must expect more road bumps as we work through the enduring pandemic.
Market Observations
The economy has hit a speed bump, but you would never know it based on the stock market. As measured by the CRSP U.S. Total Market Index, stocks were up 2.9% in August. Growth stocks, led by the technology and communication services sectors, jumped 4.6% and 3.8%, respectively. The biggest laggard was the energy sector, declining 1.8% for the month. The S&P 500 has returned 21.6% year-to-date and has generated a positive return for seven consecutive months.
Foreign stocks also gained in August. Emerging markets outpaced developed markets returning 3.1% vs. 1.8%. Year-to-date, foreign developed market stocks have gained 11.6% outpacing the 5.8% return on emerging markets equities. The return on emerging markets is quite remarkable when you consider that China represents 39% of the S&P Emerging Broad Market Index and that Chinese stocks are down 12.7% this year. Not to be forgotten, bonds were flat as measure by the Bloomberg U.S. Aggregate Bond Index, as was gold.
Final Thoughts:
Pick a headline – the Delta variant, a troubling departure from Afghanistan, a contentious political environment, or the devastation caused by Hurricane Ida. Throw in the S&P's lofty forward price-to-earnings ratio of 22.1, and there are many reasons investors could use to bail out of stocks. However, that exodus hasn't occurred, and we do not expect it to any time soon for three compelling reasons.
Corporate earnings are strong and growing. According to FactSet, 87% of S&P 500 companies beat estimates in the latest quarter. (5) That's the largest percentage in the 23 years FactSet has been collected. In addition, as data rolls in during the first two months of a quarter, it is typically for analysts to lower earnings expectations. Over the past 20 years, the average reduction in earnings estimates was 2.4%. For Q3 this year, earnings estimates were increased by 3.8%.
There is a lack of compelling alternatives. The yield 10-year Treasury bond remains low at 1.32% as the Federal Reserve's argument that inflation is transitory has been widely adopted. It should not be a surprise the appetite for stocks hasn't waned, given the dividend yield on the S&P 500 is currently 1.28% and earnings growth is robust. Stocks are simply much more compelling than bonds.
Cash and liquidity are abundant. As we have highlighted in prior Insights, households are flush with savings, and the U.S. Government's massive spending will continue to pump up the economy for at least a few more years.
The foundation for a continued bull market is solid, but caution is advised. The S&P 500 has not experienced a 5% correction in 10 months. Since 1950, the average number of days between 5% corrections is 97. The headline risks are real and with a historically high valuation, expect more volatility and more frequent 5% pullbacks. Lastly, do not lose sight of the importance of portfolio diversification. Although yields are low, U.S. Government bonds are important for downside protection. Think of them like airbags—they allow you to drive fast but are not appreciated until you need them.
At Concord Asset Management, we believe a well-positioned portfolio is diversified, owning all types of stocks and bonds, so part of your portfolio will always hold the best performing asset classes despite which risks come to fruition or not. Although currently tilted to value stocks, our typical client's portfolio provides exposure to thousands of stocks and bonds in multiple asset classes and economic sectors. As always, the best way to ensure your portfolio is well-positioned is to reach out to your Financial Advisor for a portfolio review.
Author

Mitch York
CIO
Sources:
All performance data is generated through Morningstar. 
Note: All performance data in the following two charts were drawn from Morningstar.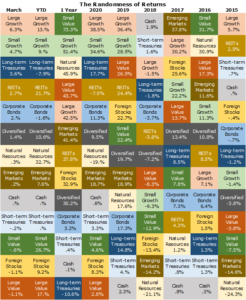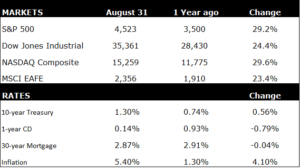 Disclaimer: Concord Asset Management, LLC ("CAM" or "IA Firm") is a registered investment advisor with the Securities and Exchange Commission. CAM is affiliated, and shares advisory personnel, with Concord Wealth Partners.  CAM offers advisory services, including customized sub-advisory solutions, to other registered investment advisers and/or institutional managers, including its affiliate, Concord Wealth Partners, LLC. CAM's investment advisory services are only offered to current or prospective clients where CAM and its investment adviser representatives are properly licensed or exempt from licensure.
The information provided in this commentary is for educational and informational purposes only and does not constitute investment advice and it should not be relied on as such. It should not be considered a solicitation to buy or an offer to sell a security. It does not take into account any investor's particular investment objectives, strategies, tax status, or investment horizon. You should consult your attorney or tax advisor.
The views expressed in this commentary are subject to change based on the market and other conditions. These documents may contain certain statements that may be deemed forward‐looking statements. Please note that any such statements are not guarantees of any future performance and actual results or developments may differ materially from those projected. Any projections, market outlooks, or estimates are based upon certain assumptions and should not be construed as indicative of actual events that will occur.
All data is as of the end of April 2021 unless otherwise noted. Data sources include www.morningstar.com. All information has been obtained from sources believed to be reliable, but its accuracy is not guaranteed. There is no representation or warranty as to the current accuracy, reliability, or completeness of, nor liability for, decisions based on such information and it should not be relied on as such.
Please remember that past performance may not be indicative of future results.  Different types of investments involve varying degrees of risk, and there can be no assurance that the future performance of any specific investment, investment strategy, or product (including the investments and/or investment strategies recommended or undertaken by CAM or its affiliates, or any non-investment related content, made reference to directly or indirectly in this newsletter will be profitable, equal any corresponding indicated historical performance level(s), be suitable for your portfolio or individual situation or prove successful.  Due to various factors, including changing market conditions and/or applicable laws, the content may no longer be reflective of current opinions or positions. Moreover, you should not assume that any discussion or information contained in this newsletter serves as the receipt of, or as a substitute for, personalized investment advice from CAM or CWP.  To the extent that a reader has any questions regarding the applicability of any specific issue discussed above to his/her individual situation, he/she is encouraged to consult with the professional advisor of his/her choosing.  IA Firm is neither a law firm, nor a certified public accounting firm, and no portion of the newsletter content should be construed as legal or accounting advice.  A copy of IA Firm's current written disclosure Brochure discussing our advisory services and fees is available upon request or at https://concordassetmgmt.com/. Please Note: If you are an IA Firm client, please remember to contact IA Firm, in writing, if there are any changes in your personal/financial situation or investment objectives for the purpose of reviewing/evaluating/revising our previous recommendations and/or services, or if you would like to impose, add, or to modify any reasonable restrictions to our investment advisory services. IA Firm shall continue to rely on the accuracy of the information that you have provided.  Please Note: IF you are an IA Firm client, Please advise us if you have not been receiving account statements (at least quarterly) from the account custodian.